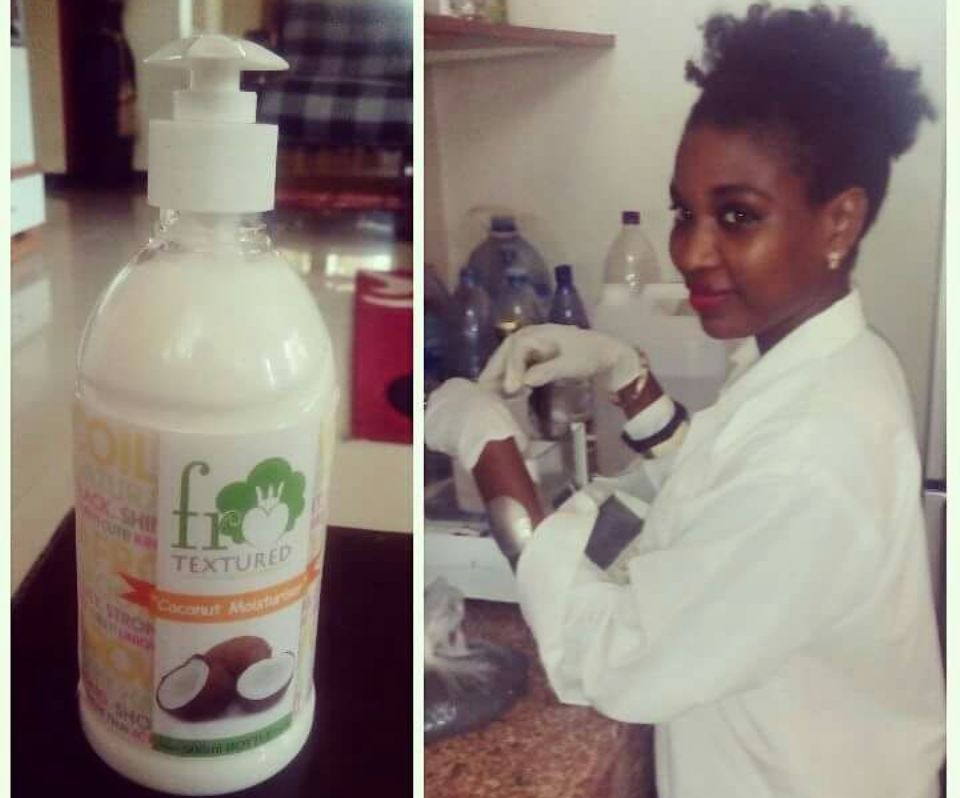 It is a dream for every student to finish school and get a well paying job and it is a path taken by many graduates but a few seek to defy the odds and use the knowledge they obtained in school to start up their own businesses. It is surely a plus to the education system if it is able to produce such men and women that will contribute to the well being of the world by transfering knowledge from class to the world of business in the act of coming up with new sustainable business ventures
In today's career spotlight, we bring you a young C.E.O by the name of Hope Kayeny, the lady behind the company Frotextured which is on route to the pinnacle of the beauty industry. This is what we asked
Who is Kayeny the entrepreneur?
I am a first degree graduate in Bachelors of digital film and television. I have always been privileged enough to go to good schools that not only concentrate on academics but greatly emphasized on creativity and skill development. My high school
Taibah International school
and
Limkokwing University of Creative Technology
really helped shape my future of entrepreneurship. Because of this educational background, from an early age, I developed the need to create a product that solved hair and skin problems for all people of African decent and people with textured hair and different skin.
Of all the careers in the world,Why did you choose a career in business ?
The beauty industry generally concentrates on creating products for White or Asian hair types and skin. On the contrary, African / black hair is different and more delicate due to its genetic make-up and therefore products geared towards our hair should be more specific. We decided to create an organic and more necessary product line for ethnic hair and skin but also for other hair types that suffer issues of thinning, damage and other hair and skin related issues
What are the returns for your business ie how profitable is it ?
We just started at the end of last year and so far it has done quite alright. I started with very minimal capital and one product but within a month I already have more products in my product range
So what was the inspiration starting frotextured?
Black beauty: hair and skin is not represented enough in the media so our aim is to change this as more and more people are celebrating dark skin and textured hair. Also to join in the cause of less chemicals hence reduction of cancer, was a huge inspiration. Ultimately, I plan to make frotextured a social enterprise that can employ more and more youth in the beauty industry as we expand
Describe your typical day in line with your work?
Typically, I'll be researching and developing new natural formulae for hair and skin. Other times I'll be in the lab experimenting and coming up with solutions for improved hair and skin. Eventually, I brand and promote my products so I can expand my clientele.
What particular skills does one need to become an entrepreneur and why are they important?
As an entrepreneur, it is important to note that not a lot of people will understand your vision, a lot of your friends will not support you and you have to leave your comfort zone for a while. Therefore you will need persistence, strong will and vision to keep you on the right path. It is never an easy journey but the rewards are endless.
What's cool about being an entrepreneurship?
As an entrepreneur, you get to be your own boss and therefore you make your own rules and get to express your ideas freely.
Any challenges ?
My biggest challenge is marketing. I'm a solo company so everything is on me from creating to marketing.
What subjects did you take in school and how have they influenced your career path ?
My best subjects were English and Literature. I always had some of the best stories and creative composition. This later inspired me to do film in the university. As I directed more and more movies, I realized I was among the few students in my class with African characters as majority were Asians. This inspired me to make movies more representative of African culture and from then on and researched and fell in love with making African beauty mainstream again.
What is your education to date?
I have a Bachelors Degree in Digital Film and Television. I majored in creative writing, directing and creating film.
What aspects of your education journey have proven most important for your job?
I did business studies in my A level (Cambridge) and also as a course unit in my second year of University. This has really helped push my love for business and entrepreneurship despite the roadblocks and the ups and downs.
What trends are you seeing in the world of business ?
There is a lot of technology in businesses in order to be updated. The beauty industry has a whole natural or go green movement going on all over the world. I always try yo stay on top of my game when it comes to my innovations
What are the most important personal characteristics required for the job?
One must be ready to sacrifice money, time and energy. One must also have vision and enthusiasm to continually create
Which key people influenced your career direction ?
Iman Mohammed Abdulmaji
a Somali fashion model and entrepreneur who single handedly pioneered in the field of ethnic cosmetics.
Evan Spiegel
, the snapchat CEO who founded the company at only 23 years old. He is 27 years old this year in June . This really inspires me because he's in my age group and he's already a multibillion company. I definitely want to have a big company by the time I'm 30 years old
What is your dream job?
I dream of being an influential CEO for youth all over the world
What have been the most rewarding events in your business career so far?
Being able to sell out all my first stock and thereafter expanding my branding just a month later without having to borrow money from anyone really motivated me to work harder.
As a student, how did you cope up with the pressure to succeed / excel in class?
Being an A class student, I always had pressure to over perform and overachieve in all aspects of my life. Having a second grade was never in the cards for me
What advise would you give someone considering to start up a business some day?
Give your business your all and don't be afraid to approach people to help. Being bold and taking a leap of faith is very rewarding however scary.
What outside class activities did you engage in that have proved beneficial on your career path?
Me and my classmates pioneered an entrepreneurship club in highschool and it really helped me grow in all of my endevours. I've always been an entrepreneur right from after highschool.
Any Concluding remarks?
Work hard, be focused and don't worry about your product not moving right away. Everyone has their time and it takes time to grow and get better. Hold on, be strong and don't let anyone tell you that you cannot do it.